---
Filesystems
What are they?

methods and data structures that an OS uses to keep track of files
organizes data on disk
---
Disks and File Systems
Steps:
Install a physical drive
Partition it
Create a file system on the partition
Mount the filesystem in the root partition
Use FS
Umount FS
---
HDD Disk terms
track is circular path on the surface of a disk
sector is a subdivision of a track
block is a group of sectors that the operating system can address (point to). A block might be one sector, or it might be several sectors (2,4,8, or even 16). The bigger the drive, the more sectors that a block will hold.
RPMs?
---
Physical HDD
---
Physical SSD
Do not rely on moving parts or spinning disks
Data saved to NAND flash

Has a type of transistor that allows it to maintain state even when no power is supplied.
---
Physical SSD Terms
Cell - storage location of bits

SLC = Single-level cell = one bit per cell
MLC = multi-level cell = 2 bpc
TLC = triple-level cell = 3 bpc
QLC = quad-level = 4 bpc
---
Physical SSD Terms
---
A few more SSD tidbits
The important pieces

block = smallest unit that can be erased. (4 - 8MB?)
pages = smallest unit that can be written to.
Each page contains anywhere from 512 – 4,096 bytes (1 byte = 8 bits). Some cells hold just one bit, while others contain up to three depending on the SSD.
---
What is a partition?
A logical division of a hard disk. The OS treats a partition as if it were a distinct physical device.
---
Why partition?
Different OS's on each partition(multi-boot setups)
Separate system data from user space data (i.e. home drives)
Protection (in case of failure, or corruption)
Able to grow or resize partitions
Better performance (size of files can determine block sizes across a partition)
---
More reasons for partitioning (from tldp.org)
Encapsulate your data. Since file system corruption is local to a partition, you stand to lose only some of your data if an accident occurs.

Increase disk space efficiency. You can format partitions with varying block sizes, depending on your usage. If your data is in a large number of small files (less than 1k) and your partition uses 4k sized blocks, you are wasting 3k for every file. In general, you waste on average one half of a block for every file, so matching block size to the average size of your files is important if you have many files.
---
More reasons for partitioning (from tldp.org)
Limit data growth. Runaway processes or maniacal users can consume so much disk space that the operating system no longer has room on the hard drive for its bookkeeping operations. This will lead to disaster. By segregating space, you ensure that things other than the operating system die when allocated disk space is exhausted.

---
Disadvantages of partitioning
Reduces the total amount of disk space available to the user.
Increases disk fragmentation?
Moving files across partitions will require copying of bytes (slower)
---
Partition Questions
How many partitions can I have?
How many do I need?
Is a drive equal to a partition?
Is a partition equal to a drive?
---
MBR = An important partition
MBR is the Master Boot Record.Overview
Should always be located on the first sector of a hard disk
contains the disks master partition table
contains information on what should the system boot next?

Where is the bootable partition?
In Linux, this might be stage 1 of Grub.
---
MBR
---
Booting
BIOS?
POST : BIOS readies various hardware, simple tests done

could hand off to raid controller or other hardware for init steps

After handling basic input/output devices of PC, could make selection as to what to boot, or if no selection, BIOS tries to 'boot' utilizing preconfigured or default 'boot device'
First 512 bytes or MBR of boot device are loaded (usb, disk, other)
---
MBR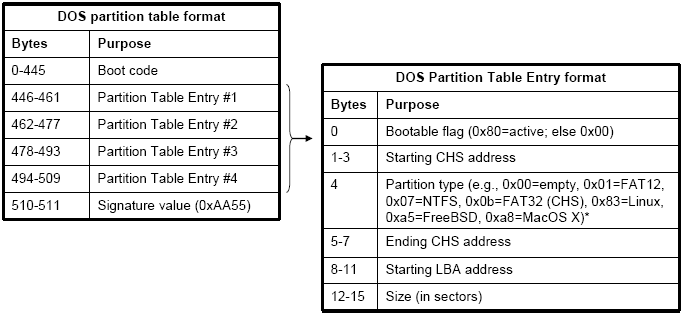 ---
MBR
MBR is configured with a 'bootable' partition. So the system will read the first 512 bytes of that partition to figure out what to do next. -> load the bootloader into memory (i.e. Grub, ntldr, bootmgr).
This second stage bootloader is stored on a file on disk
---
Bootloader
---
Bootloader
---
MBR problems
Maximum addressable storage space is 2TiB
So, slowly being superseded by the GUID partition table (more on this later)
---
Partition Details
MBR originally supported up to 4 primary partitions
Newer revision allowed one of these 4 to be used as an extended partition
Any number of logical may be created in the extended partition
---
Primary vs Logical
One primary partition of a hard drive may be subpartitioned. These are logical partitions. This effectively allows us to skirt the historical four partition limitation.
The primary partition used to house the logical partitions is called an extended partition and it has its own file system type (0x05). Unlike primary partitions, logical partitions must be contiguous. Each logical partition contains a pointer to the next logical partition, which implies that the number of logical partitions is unlimited. However, linux imposes limits on the total number of any type of partition on a drive, so this effectively limits the number of logical partitions. This is at most 15 partitions total on an SCSI disk and 63 total on an IDE disk.
---
Linux Partitions
In Linux, at least 1 partition is required for the /.

Mounting is the action of connecting a filesystem to a particular point in the / root filesystem. I.e. When a usb stick is inserted, it is assigned a particular mount point and is available to the filesytem tree.
---
More about devices
Device naming conventions

IDE drives will be assigned /dev/hda through /dev/hdd
Those drives can then in-turn be partitioned.
/dev/hda1 #first partition on hda
SCSI drives will be assigned /dev/sda? or /dev/sdb?
Serial ATA will show up like SCSI disks do
---
Partition tools
parted
fdisk
sfdisk
cfdisk
---
Filesystem Types
Once we have partitioned the disk, then we choose the way it should be formatted. What type of data organization do we want on the disk?
Types to choose from:
ext3: old linux
ext4: linux default
ntfs: windows default
vfat: flash drives, cameras, minimal
fat: old dos (windows)
etc …
---
Filesystems vs Partitions
The difference between a disk or partition and the filesystem it contains is important. A few programs (including, reasonably enough, programs that create filesystems) operate directly on the raw sectors of a disk or partition; if there is an existing file system there it will be destroyed or seriously corrupted. Most programs operate on a filesystem, and therefore won't work on a partition that doesn't contain one (or that contains one of the wrong type).(TLDP)
---
Creating
Before we can use a disk or a partition as a Filesystem, it needs to be formatted… What does this mean?
Sets up a logical structure on the disk to store information and files (mkfs)
---
Steps for partitioning More Detailed
Use cfdisk or another program to partition free space
Run the mkfs command to set up the filesystem(i.e. mkfs.ext2 /dev/sdb5)
Create a mount point (i.e. mkdir testmount)
Run the mount command (i.e. mount /dev/sdb5 testmount)
---